TECH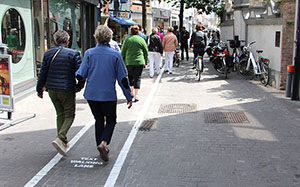 Antwerp introduces 'text walking lanes' for pedestrians using mobile phones by
The Belgian city of Antwerp has come up with a solution to the problem of pedestrians bumping into other people while sending text messages from their mobile phones. Smartphone users now have their own designated lanes, where they can walk while texting or otherwise using their mobile devices without irritating or endangering others.
These lanes are marked 'text walking lane' in English on a number of busy pedestrian shopping streets in the city centre. The markings on the ground are in highly visible white paint, but some lanes wind through narrow cobbled streets. Negotiating the corners is likely to remain challenging for people whose eyes are glued to their phone screens.
The scheme is the brainchild of city councilwoman, Frieda Wander, who says many smartphones are broken in collisions among pedestrians.
Everyone textwalks, says Wander. You probably walk through the streets while texting and not paying attention to your surroundings – only to whomever is chatting on your screen. This causes collisions with other pedestrians. You could, unknowingly, even walk right into your text mate.
If pedestrian lanes are successful, Wander plans next year to propose a similar solution for texting drivers.